Did you know that the Set for Life lottery can give you a chance to win £10,000 every month? If you are interested in trying your luck in a lottery, the Set for Life is a fantastic way to start. Set for Life lottery is best known to be the only game that allows you to play numbers in seven consecutive daily draws. This simply means that you have plenty of chances to win the jackpot every day of the week.
Here we will make you get to know more about Set for Life and understand why a lot of people continue to play this lottery.
Set for Life was organized by the National Lottery and earned the title of being the UK's first annuity lottery game. The lottery gives a chance for the players to win a monthly payment of £10,000 for a 30 year time period.
And even though it is a UK lottery, you can play Set for life online from Australia. Our online ticket service for global lotteries enables players from all over the world to participate in the best lotteries with the largest jackpots.
About Set for life lotto
Country: United Kingdom
Main numbers range: 45
You pick: 5
Extra numbers range: 10
You pick: 1
Draw days, hours: Monday, Thursday, 20:00 GMT, 21:00 CET
Minimum jackpot: none
Maximum jackpot: none
Probability of winning the jackpot: 1 in 15.339.390
Probability of a tier 2 win: 1 in 1.704.377
Probability to win in any tier: 1 in 12,4
Number of prize tiers: 8
Like other lotteries in the UK, the Set for Life is a draw game. If you play the lottery, you need to select five numbers from the guessing range of 1 to 47, including a "life ball" number from 1 – 10. Once your five numbers and life ball number are chosen, you will have a chance to win a total jackpot of £10,000 each month.
Set for Life Draw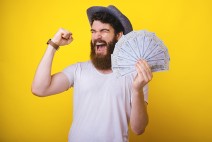 Set for Life lottery runs every Monday and Thursday, and in the UK, players can buy lotto tickets at their local lotto shop. The draw closes at 9 pm EAST every night. The latest results of the Set for Life are typically available on the day of the draw, which is 9:45 pm GMT. Please take note that the dividends for every game are being updated shortly after the draw. Also, dividend updates are usually available to the public morning after the lotto draw.
How to Win Set for Life Lottery
Set for Life lottery's first prize offers a monthly payment of £10,000 and four players have a chance to win the prize in every draw. For you to win the jackpot prize, your numbers need to match the eight winning numbers during the single set. Meaning, there is a total of eight prize categories in the Set for Life lottery. You have a chance to win a prize with four winning numbers, including one bonus number in each set.
Set for Life offers favorable odds to win the jackpot. For example, other prizes that require a match of one or more numbers give you a 1 in 12 chance of winning even that would be just £5.
So, if you can feel your luck, it will be worth going for a Set for Life ticket! We give you a wide range of international lotteries that you can play from Australia, for jackpots with hundreds of millions in winnings.
Is it possible to play Set for life lotto online?