Ever wondered what time is the Euro Lottery draw? On every such day, players across the globe eagerly anticipate the EuroMillions, a transnational lottery phenomenon that unites participants from 9 European countries.
From the United Kingdom and France to Spain, Austria, Belgium, Ireland, Luxembourg, Portugal, and Switzerland, EuroMillions captivates players with its exciting draws, enticing jackpots, and the chance to win life-changing prizes.
OnlineLotto365.com makes it possible for individuals worldwide to participate in EuroMillions by enabling players to engage in the excitement of this lottery right from the convenience of their homes.
What time is the Euro lottery draw on TV?
EuroMillions drawings are captivating events broadcast on television, providing an exciting way for participants to witness the live draws and discover if their numbers align with the winning combination. The broadcasting details, including timing and channels, vary based on the country;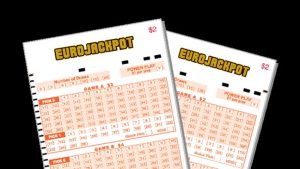 Television Broadcast in the UK:
In the United Kingdom, Euro Lottery draws are broadcast on ITV at approximately 8:45 PM on both Tuesdays and Fridays. Viewers can tune in to ITV to experience the thrill of the live draws and follow the announcement of the winning numbers.
Broadcast in Other Participating Countries:
For participants in other Euro Lottery countries such as France, Spain, and Portugal, the draws are also televised on various national channels. The specific channels and airing times may differ, so it is advisable to consult local TV listings to ensure you don't miss the broadcasts.
Watching EuroMillions Draws Online:
Euro Lottery enthusiasts can catch the live drawing online. The official Euro Lottery website offers live streaming of the draws through platforms like YouTube.
Experience the EuroMillions drawing in real-time by visiting the official EuroMillions website. Head to the "Results" or "Watch Live" section for a live stream of the drawing
Game Format
The Euro Lottery game format involves a captivating combination of main numbers and additional "Lucky Star" numbers. Players typically choose sets of 5 main numbers and 2 Lucky Stars.
The draw, conducted using two machines, randomly selects winning numbers from these sets, creating a suspenseful experience.
Jackpots and Accumulation
The EuroMillions jackpot starts at a predetermined amount and progressively increases with each draw if there is no jackpot winner. This accumulation mechanism contributes to the lottery's popularity, as players have the opportunity to compete for substantial jackpots that can reach impressive heights over time.
The Interplay Between What Time Is The Euro Lottery Draw and Claiming Your Prize