Do you want to know how you can get the tickets you need for the Mega-Sena, although you live in the UK or any other country outside of Brazil? Well then, you're going to want to read a little further because we can help you with the entire process and make sure that you're well on your way to getting the tickets you want for any and all the games that you want to play.
All you have to do to get started is to choose the game that you want to play and pick out the ticket numbers that you want for that game.
Add as many tickets as you want for this game or any other game you want to play
Click the button to start the checkout process.
Log into your current account or create a new account in order to purchase your tickets.
If you have to create a new account you'll need to go through the registration process. Your verification link will be sent to your email.
If the email doesn't show up in your inbox you'll want to check the spam folder to make sure it's been received.
Once you've verified your account go to the shopping cart on the website.
Follow the instructions to pay for your tickets using your chosen payment method.
How to pay for your Mega-Sena ticket online
Paying for your tickets in a secure fashion is important to you and we make it as easy as possible by giving you plenty of different direct payment options as well as a secondary option to purchase your tickets. You just have to start with one of the two below.
Make sure to add a little extra into your player account if you are going to choose that method. That way your account balance will be able to pay for the purchase.
More info about Mega-Sena
Country: Brazil
Main numbers range: 60
You pick: 6
Draw days, hours: Wednesday, Saturday,  20:00 GMT -3, 24:00 CET
Minimum jackpot: R$ 2 million
Maximum jackpot: none
Probability of winning the jackpot: 1 in 50063860
Probability of a tier 2 win: 1 in 15451809
Probability to win in any tier: 1 in 2297,56
Number of prize tiers: 3
Advantages of buying Mega-Sena tickets online
No traveling needed – just buy tickets from home
Take your pick of different lottery games
Get the best odds of winning games with high jackpots
Put money directly into your account to use for your purchase
Keep track of your tickets easily
Receive notifications whenever you win on your tickets
Use the quick pick option in order to get tickets without picking numbers
Is it legal to buy Mega-Sena tickets online?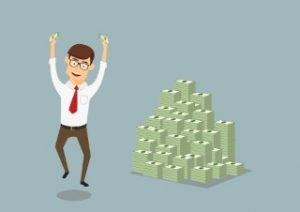 Many people worry about whether or not they can buy Mega Sena lotto tickets online because the UK is their country of residence. Or maybe they live in another country, but not in Brazil. We help you to take care of some of the concerns by making sure everything we do is based on regulations from the country that is running the lottery. This makes it easier for you to buy your tickets and to feel comfortable with the process. Plus, you're guaranteed to get any money that you win, including the jackpot.
How do I get paid if I win Mega-Sena online?
When it comes to making payments to winners we do it the best way, by giving you every cent of it. You don't have to pay us a commission for any amount that you win, whether it's a small prize or even a jackpot. You also don't have to pay us any fees unless you choose a bank transfer.
With all other payment methods, you'll get all of the money you've won. With bank transfers, we sometimes get fees from the bank and that fee is taken out of your winnings during the transfer process.
When you win, however, you should know the process that happens to get you the money:
Anyone who wins less than €2500 will get the money deposited directly into their account without having to do anything
Anyone who wins over €2500, however, will be asked to fill out a claim form by our support team. This will allow you to get your money in one of two ways. You can choose to either get a check for the full amount or have a bank wire transfer done. Either way, you get your money transferred to any country, including the UK, within a few days.
How to buy Mega-Sena Brazil tickets online